PRESIDENT TINIBU CHARGES NPF TO FOSTER SOCIAL INTEGRATION THROUGH FAIRNESS
President Bola Ahmed Tinubu has charged the Nigeria Police Force (NPF) to use daily interaction and influence with citizens across all walks of life to foster social integration by being fair, just and firm to both the complaint and the accused.
He stated this during the opening ceremony of the conference and retreat for senior police officers with a theme Fostering Economic Prosperity, Social Integration and Political Development through enhanced Internal Security Mechanism held at the Landmark Event Centre, Owerri in Imo State.
In his address read by the Minister of Police Affairs, Senator Ibrahim Gaidam, the President encouraged senior officers of the Nigeria Police Force to be relentless in their service to the nation adding that as a public institution, they will be thoroughly scrutinized and criticized. "But this must not discourage or deter you from discharging your duty as security managers". He stressed.
Tinubu pointed out that NPF is one of Nigeria's enduring assets and treasure and largest police force in Africa and one of the most successful in the performance of policing duties around the world.
In his words, you have provided this repeatedly through your sterling performance in the international duties and peacekeeping missions in Congo, Croatia Kosovo, Liberia, Namibia, Sierra Leone, Somalia, Western Sahara and a host of other countries.
The President noted that insecurity has adversely affected the nation's economic growth, and security threats in the Niger Delta region largely affected the daily crude oil output of the country thereby depriving the nation of much-needed revenue. He noted the perennial clashes between farmers and herders which also affects the nation's capacity to improve output in agriculture.
According to him, "Nigeria's pathway to economic growth and development is laced with debilitating security challenges which we must confront determinedly. I wish to remind you that during my inauguration address, I stated unequivocally that security shall be the top priority of our administration because neither prosperity nor justice can prevail amidst insecurity and violence.  I followed this observation up by promising that my administration shall reform both our security doctrine and its architecture".
Tinubu promised to continue to invest resources to improve the quality of police personnel, upgrade equipment and acquire more security assets to make the job of policing easier across the length and breadth of the nation. "We shall also review the allowances and living and working conditions of our police officers and men. This is in addition to providing more firepower to enhance police efficiency in their battle against criminals". He added.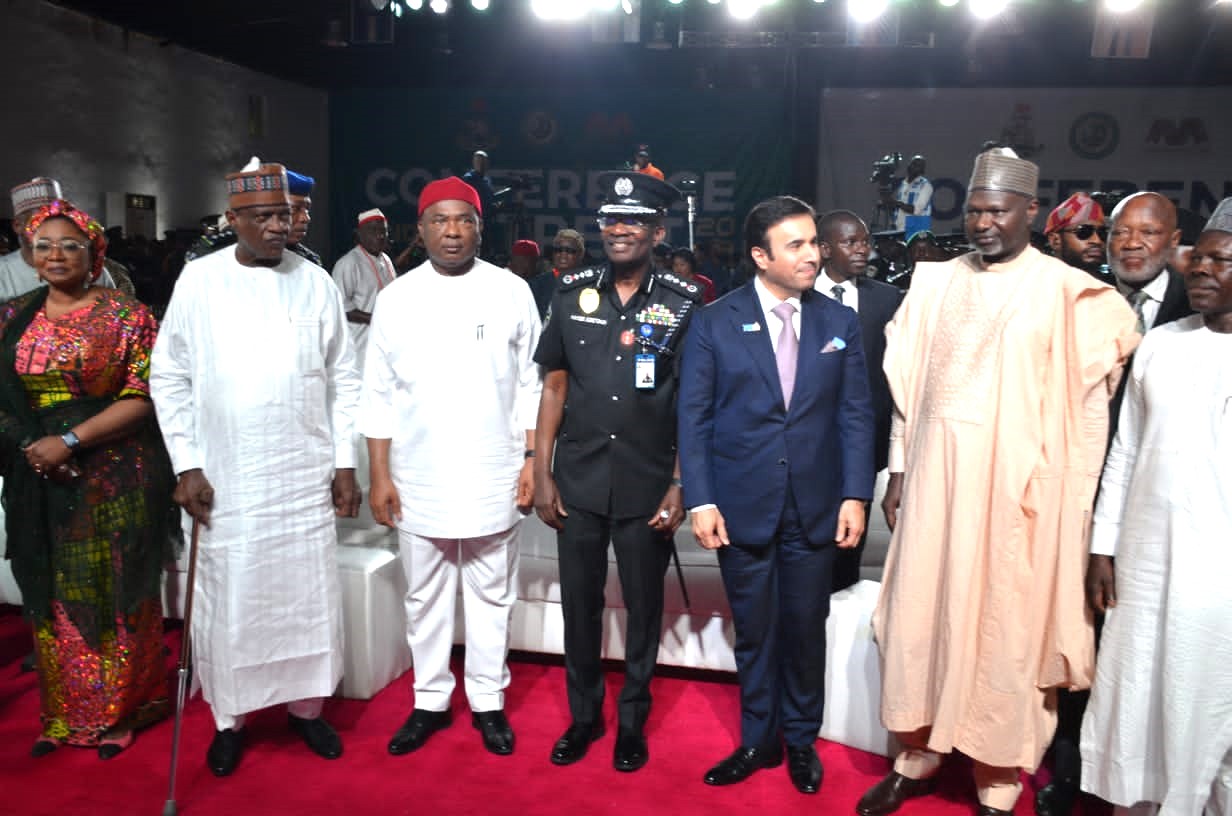 The Minister of State for Police Affairs, Hajia Imaan Sulaiamn-Ibrahim who read the address of the Minister of Police Affairs, Senator Ibrahim Gaidamin opined that the retreat marks a significant milestone in the collective efforts to enhance the effectiveness and efficiency of the nation's police force.
In his words, "In this era of rapid technological advancements, we must embrace innovation and leverage digital tools to enhance our effectiveness. Technology can assist us in crime prevention, intelligence gathering, and the investigation of complex cases. Therefore, I urge you all to explore and adopt cutting-edge technologies that can support our mission of maintaining law and order".
The keynote speaker, the President of INTERPO, Major General Ahmed Naser Al-Raisi commended the Nigeria Police Force for making Nigeria safer and more secure to everyone adding that NPF play a key role in tackling regional and international crimes.
He said, Nigeria being in a strategic location attracted organized crimes and through joint operations with other West African countries, they were able to arrest over 1000 criminals worldwide on human trafficking and smuggling. We were able to identify criminal networks that led to financial losses 40 suspects were arrested and 40,000 suspicious cyber networks were identified. Al-Raisi noted.
The Executive Governor of Imo State, Senator Hope Uzodima said that the hosting of the conference was a pointer to the fact that peace has returned to the state and commended the Nigeria Police and other security agencies for restoring a secure atmosphere in the state.
In his goodwill message, the Chief of Defence Staff commended the Nigeria Police Force for their contribution to internal security adding that it is a collective responsibility of security agencies to create a conducive environment where businesses can flourish and individuals can pursue their aspirations.
In his words, "We must embrace a comprehensive and synergetic approach to security. Collaboration and cooperation among security agencies are key to addressing the challenges we are facing. I want to assure you that men of the Armed Forces of Nigeria will continue to support the police to perform your mandate". He stressed.
Earlier, in his welcome address, the Ag. Inspector General of Police, IGP Kayode Egbetokun stated that the conference and retreat represent the broadest, most diverse and rich professional engagement of senior police officers in the country and also a platform for force leadership to critically assess the security situation in the country with a view to adequately confront the challenges.
He said the Special Intervention Force (SIF) was created to deal with stringent state security challenges noting that concrete steps have been taken to facilitate the smooth takeoff of (SIF) in the ten pilot states already identified based on the recent assessment carried out in all the 36 states and FCT.