FG EXPLORES AVENUE FOR INTELLIGENCE SHARING WITH TURKEY TO COMBAT TRANSNATIONAL CRIMES
The Honourable Minister of Police Affairs, Senator Ibrahim Gaidam has stressed the need to explore avenues for collaboration with Turkey in the areas of intelligence sharing and capacity building to combat transnational crimes.
He stated this during the visit of the Embassy of Turkey in Nigeria led by Ambassador Hidayet Bayraktar to the Headquarters of the Ministry in Abuja.
The Minister pointed out that the Nigeria Police Force will require the intervention of Turkey in the area of procurement and use of Unmanned Aerial Vehicles (UAVs) for precise mapping surveillance and intelligence-lead policing.

In his words, "As we face ever-evolving terrorism, cybercrime, and organized crimes, it is crucial that we strengthen our partnership and work hand in hand to ensure the safety and security of our nations.
He said the Republic of Turkey shares a long history of diplomatic relations, based on mutual respect, trust, and a common vision for progress. Noting that both countries possess shared values that unite the nations and the immense potential for collaboration that lies ahead.
According to him, " Turkey has consistently demonstrated its commitment to international diplomacy and fostering strong bilateral relationships.  Your visit is a testament to the importance placed on our bilateral ties and the desire to strengthen our partnership further".
He said, "Nigeria is a nation blessed with diversity, resilience, and a vibrant culture, and your country's commitment to global peace, stability, and economic development has earned admiration worldwide".
Gaidam opined that his leadership is dedicated to ensuring the safety and security of the nation and its people adding that the visit serves as an opportunity to exchange knowledge, expertise, and best practices in the field of security.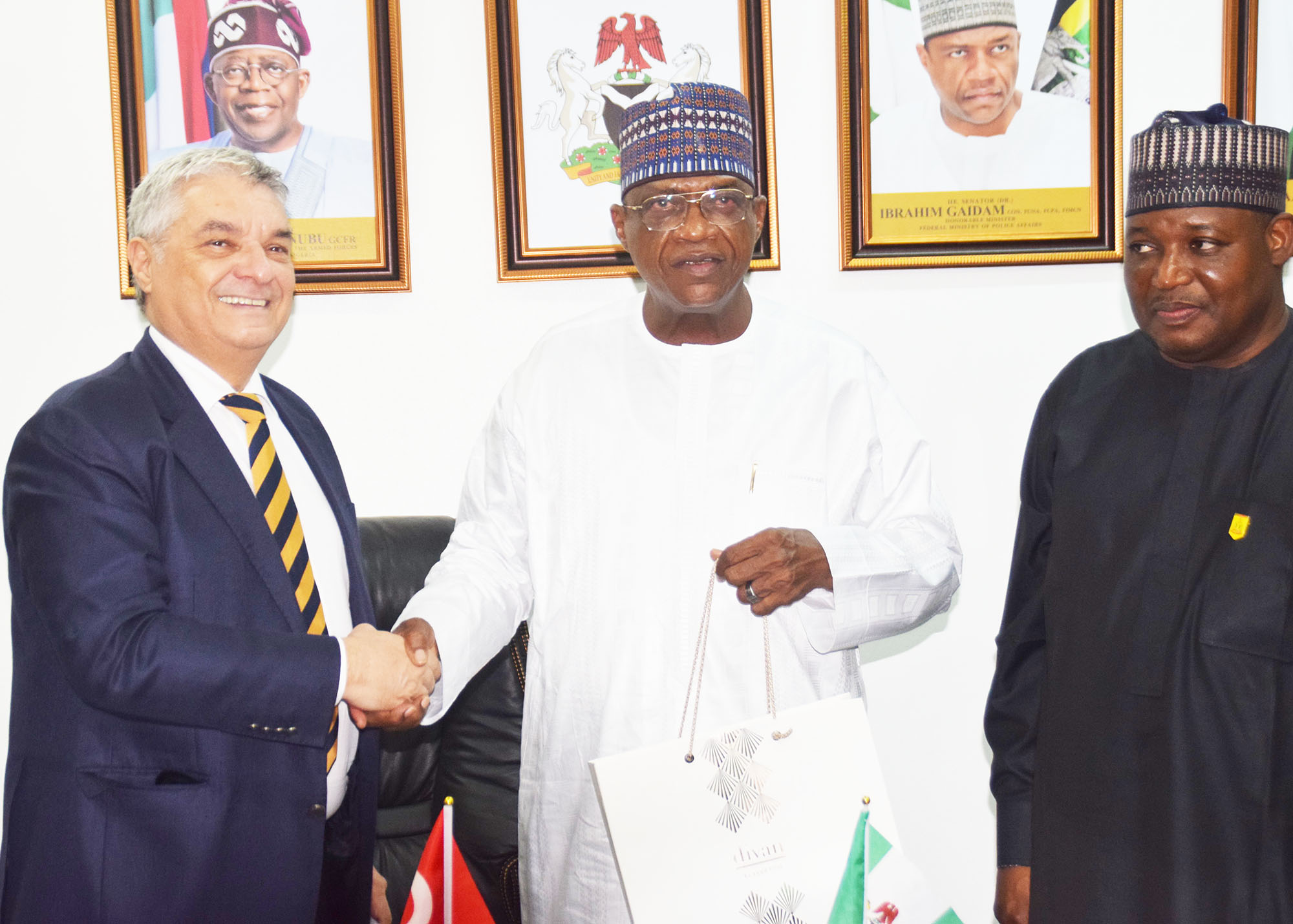 "The challenges we face today are complex and ever-evolving, and it is through collaborative efforts and shared experiences that we can effectively address them. The Minister stressed.
Earlier, Turkey's Ambassador to Nigeria, Ambassador Hidayet Bayraktar thanked Nigeria for the support and donation during the earthquake crisis in Turkey noting that both countries have a vibrant and important relationship.
He said the level of relationship in the economic, political, and military have been overwhelming and growing at a rapid pace stressing that Nigeria plays a major role in the region and Africa.
In his words, " Since Nigeria got independence in 1960, our relationship continued to grow without issues and we intend to sign two agreements on security cooperation and Memorandum of Understanding on cooperation and law enforcement training once we secured approval from Turkey".
Bolaji O. Kazeem
Deputy Director (Press)
October 11, 2023